A painful reminder of why immortality sucks:
Gradius II (Famicom version). Last stage. Brain section with spawning cell things at the beginning. I just died from materializing wall area, with no powerups. Also, I went up from 10 lives before the previous stage's boss to 15 (it yields some massive 6-digit point bonus when defeated). SOMEONE SAVE ME FROM THIS TORTURE.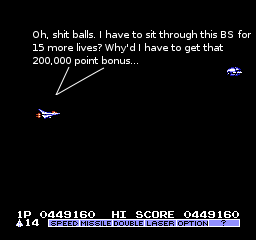 And why is LJ being an asshole and locking up Firefox for like 10 seconds half the time I try to go to another page?